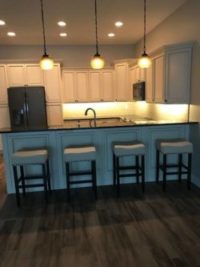 "This week I got my keys and CO for my brand new home that Covenant Homes built. I heard from so many people about the nightmare I could expect in building a new house. Well, that is not true with Covenant. This entire process has been an absolute joy.  Dean Williams is professional and patient. He kept me informed about everything. Mike Pulling oversaw the building and he was also great to work with. I can't imagine working with any other builder. I love Covenant Homes!!!!!!!! Oh, and I think I have the prettiest home ever!
"We began our process of have a new home built in late 2016 with the purchase of some acreage in East Pasco County. The realtor who helped us with the land purchase recommended Covenant Homes to build our home.. We met with David and Dean Williams a number of times in those early days. They helped in many ways to insure the property was within County regulations and and fit our desired home plan. Dean and David were always available for questions and good advise. We have built a few homes in the past. This home took a little over a year to build and everything went very smooth. And a major question most home buyers worry about, does Covenant Homes take care of issues after the Certificate of Occupancy, and the answer is a resounding, yes! All issue were minor and resolved immediately. We love our home and would recommend Covenant Homes without hesitation to everyone."
"A year ago, Covenant Homes built my retirement home in lovely Dunedin. They were exceptional to work with, guiding me through the process and many decisions while assisting me in realizing my 'vision'. Dean exemplifies professionalism and his integrity and kindness are unmatched. Thank you all for the experience and my beautiful home!"
"My husband and I never built a home before, nor own one, so it was a new and unfamiliar experience for both of us. We were in great hands with Covenant Homes. Dean was so patient and helpful in guiding us through the whole build process, design, fixtures, etc. You truly get honesty, quality, and professionalism when you work with Covenant Homes!"
"My wife and I used Covenant Homes to build our first house and it was a great experience. Being new to the whole process we had many questions and learning curves which everyone at Covenant Homes helped with. Dean and the entire crew are awesome to work with."
"We had our home built in 2015 and working with Covenant and Dean was a very pleasant experience. One of the thing that stood out about this builder for example there was a wall in one of the bedrooms that did not have equal space on both sides of the window and Dean had this corrected even though the plans where like this when he saw it he said it looked wrong and wanted the wall moved to match the other side. This told me that he cared about the quality and look of the house that he was building. If I build again it will be with Covenant Homes."
"Could not be happier with the house Covenant Homes built for my husband and me in Dunedin, FL. Fabulous to work with and followed through beginning to end and way past the occupancy. We had builders in the past and were wary but the Williams family and those working for them are as ethical and they come. And, equally as nice!"
"After interviewing 3 different home builders in our area, we chose Covenant Homes. They gave us a very competitive bid. We liked that they were a family owned and operated company. We were not disappointed with our choice. We found them to be very flexible and accommodating to work with. They always strived to satisfy our requests. Their workmanship was high quality and they stand behind their work. They were always fair and honest. We are very pleased with the quality of our new home. We would not hesitate to recommend Covenant to build your next home."
"Covenant homes built our home in Dunedin and it's beautiful and quality work . Every single person we came into contact with was personable and kind . Dean is an absolute pleasure along with the entire crew . Couldn't say enough good things."
"Dave, I wanted to let you know what an outstanding job your group did with the construction project for Ace Opportunities. Many contractors can build but not all will offer the courtesy and professionalism that was displayed by all those who worked on the project. Respecting and working around the occupied units was appreciated. Also, your group respected the sensitivity of interacting with the female tenants and this enabled Ace to maximize the property while the work was being performed. Many occupants, who may otherwise have been homeless, were blessed by this result. Thank you again and I wish you the best."
–Frank Seidl, President
Ace Opportunities, Inc.
"Working with Dean over the past several years has always been a pleasure. He is very fair when making quotes, has excellent suggestions, and his workers are very professional. We would not hesitate to recommend Covenant Communities (aka Covenant Homes) to friends and neighbors. Thanks, Dean, for your excellent work and my wish for your continued success."
–Bob Bailey
Sand Pebble Point, Port Richey
"We purchased a condo that needed total remodeling and since we live out of state, were concerned about having a contractor working when we weren't going to be present. Dean Williams and Covenant Communities (aka Covenant Homes) were recommended to us. Well, they were great and exceeded all expectations. Every stage was completed on time with excellent workmanship and within budget. Dean always kept us informed with emails, pictures and phone calls. We appreciated their trustworthiness, honesty and integrity of word along with Dean's excellent design input. They were truly professional and willing to go the extra mile. We found working with them an excellent experience and would absolutely use them again. We highly recommend Dean Williams and Covenant Communities (aka Covenant Homes) and consider ourselves fortunate to have found them."
Addressed to: Pasco County Community Development
"I would like to take the time to thank you for being part of such a wonderful program as the Rehab Program. Working with Covenant Communities (aka Covenant Homes) as the contractors was such a pleasure. Everyone I came into contact with through them, sub contractors, etc., were very neat, efficient and professional. Any minor concerns were addressed immediately by Covenant and usually taken care of the same day. I believe that Community Development should know what a professional, courteous, efficient company Covenant is, so that you and anyone else in the program who deals with them either now or in the future should have no concerns. I cannot say enough good things about Covenant Communities (aka Covenant Homes) and will not take more of your time trying to do so. I am a firm believer that praise should be given whenever possible and hope this letter will bring you great satisfaction in knowing that a reputable company is part of your program, serving the public."