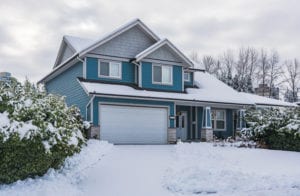 If you have a vacation house that's vacant, it's important to prepare your home for winter. Otherwise, you could face serious and costly problems such as frozen pipes. Here are 11 tips to keep in mind for winterizing your vacation home.
Inform Your Neighbors
Ask your neighbors to keep an eye on your home. If they know you won't be around for a while, they can look out for anything unusual and report it if necessary.
Keep Your Home Secure
Don't overlook home security as you create your winter home prep checklist. Make sure you lock up all doors and windows. If you have an alarm system, remember to turn it on. Avoid leaving obvious signs that you're away. Forward your mail or arrange to have someone pick it up for you. If you have newspaper or magazine subscriptions cancel them or put them on hold.
Set the Thermostat
Make sure the thermostat is set to an appropriate temperature so your pipes don't freeze. On the other hand, don't set it any warmer than necessary as this is a waste of energy. To prepare your home for winter, set the thermostat at around 55 degrees F.
Insulate Thoroughly
Look for any places where cold, rain, or snow could enter your home and seal them up. Repair any holes or cracks you find. There are several ways to insulate windows. You can use plywood, rubber weather stripping, insulation film or another method.
Clean Out Refrigerator and Cupboards
You don't want to leave food around the house while you're away. Clean out your refrigerator and throw out anything perishable. Even non-perishables should be put away in secure containers so it doesn't attract mice and other pests.
Shut Off Gas and Appliances
Shut down anything that uses power or that could cause a problem. Turning off the gas line prevents leaks. If you have a fireplace, close the flue. This prevents moisture, debris, or animals from getting into your home. Make sure all appliances that aren't being used are turned off and unplugged.
Make Sure Your Sump Pump is Working
Your sump pump plays a vital role in keeping your basement dry and preventing floods. If you need to repair or replace it, do so before you leave your vacation home for the winter.
Clean Out Your Gutters
When performing home prep tasks, remember to check your gutters. Clean out debris from your gutters. If they are clogged, rainwater won't drain properly away from your house and you could get flooding. If you don't have the correct tools to perform some of the home prep items, check out this list of 15 tools every homeowner should own.
Winterize Your Plumbing
Water and plumbing are crucial for winter home prep. Turn off the main water supply. Make sure all faucets are completely off. Pour RV antifreeze into toilets and drains. If you have a pool, drain it completely.
Stay Informed
Keep track of the weather so you know about any severe storms that might affect your vacation home. If there's a severe storm, you should arrange to have someone stop by to make sure everything is okay.
Check Smoke and Carbon Monoxide Alarms
Make sure your smoke and carbon monoxide alarms are working. It's best to have alarms that are wired to notify the local fire department if there's a problem.
Winter can be tough on vacation homes in Florida or Georgia. If you take the right precautions, however, you have nothing to worry about. These home prep tips will help you relax and know that your home will be in great condition when you return.
If you plan to return to your vacation home in the Spring, here's a list of 5 Spring Home Maintenance Tasks to keep in mind.
Covenant Homes is a custom home builder in the Central Florida and North Georgia areas. They can customize every aspect of your home with flexibility and personal touch in every home we design.
If you're looking to build a custom home in Florida or Georgia, contact Covenant Homes.