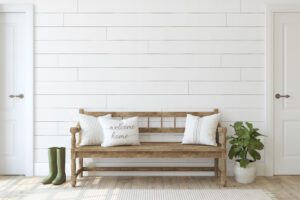 Farmhouse decor is a tradition that never goes out of style. Homeowners who live in cities and suburbs as well as rural areas like the quaint and sturdy style of old farms. Here are some ideas for farmhouse decor, whether you want your entire home to have a rustic look or if you want to blend farmhouse with other styles.
Entryways and Mudrooms
Give yourself and visitors a warm farmhouse welcome with features such as a wooden bench with pillows and throws, a solid coat hanger, and perhaps some wooden crates. Lighting the area with old-style lanterns can complete the effect.
Mix Shades of White
Incorporating different shades of white helps to create a traditional rustic style. In addition to farmhouse white for the walls, you can mix various shades of white for kitchen cabinets, floors, and decor.
Wood Paneling
Reclaimed wood paneling, taken from antique barn wood, is perfect for creating an authentic farmhouse style. If you want a simpler or more economical alternative, you can find many styles of wood paneling that provide a similar effect.
Wood Beams
Nothing creates a farmhouse aesthetic like thick wooden beams. These can be real or faux wood. Wood beams can be done in many styles and can work for a variety of rooms such as the living room, dining room, or kitchen. Your options include log-style beams, which work well with high ceilings. If you want a more modern farmhouse look, consider more industrial beams, which can be wood or metal.
Antique Mirrors
Mirrors are an extremely versatile way to decorate a home. You can find antique mirrors in countless styles, shapes, and sizes that will work in any room. Mirrors also give the illusion of more space. Check out antique stores and thrift shops for interesting old mirrors.
Install Shiplap
Shiplap, wooden planks that can be installed from floor to ceiling, are enjoying a comeback as people embrace farmhouse decor. In addition to its atmospheric appearance, shiplap is ideal for any climate as it's highly resistant to the elements and temperature fluctuations.
Furnish Your Bathroom With Antiques
An antique hutch or vanity in the bathroom provides convenient storage space as well as contributes to the farmhouse style. You can add decorations such as mason jars, candles, and a vase with flowers for added atmosphere. Wall art such as folksy sayings goes well with this style.
Linen and Wicker
You can add farmhouse decor throughout your home. One way to do this is to place interesting linens such as bedspreads, curtains, pillows, and tablecloths around the house. Wicker items are a nice complement to linens. You can place almost anything in a wicker basket, such as a plant, fruit, reading material, or snacks. Wicker furniture can be placed anywhere, indoors or outdoors.
Open Shelving
Open shelves are both appealing and useful for storage. You can make these spaces unique by placing personalized items on the shelves. Photos, books, small plants, jars, spices, or any type of kitchenware will all be easily accessible while giving the room a spacious and homey feel.
Develop Your Own Farmhouse Decor
Start with the above tips and then develop your own approach. Don't be afraid to experiment and mix ideas and styles. Farmhouse decor can include many influences from the past and present. Be on the lookout for objects and ideas that will work in your home.
If you're looking to build a new home that fits your farmhouse style, consider using Covenant Homes. Discover what sets us apart.