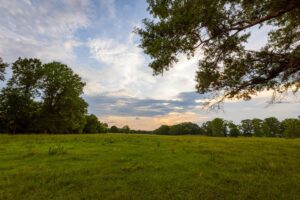 There are many reasons to consider making Georgia your permanent home. North Georgia has a mild climate, and an abundance of natural beauty, and still offers real estate at lower prices than many other areas. If you want the maximum freedom to choose your location and have a custom home built, the best solution is to buy your own land. Let's explore how to buy land in Georgia, step by step.
Arrange Financing
Most people who buy land need to take out a loan. Unless you intend to buy your land with cash, the first step is to get pre-approved, just as you would for a mortgage. It's much easier to shop for land if you've been pre-approved. You'll find it's easier to work with real estate agents once they know you're serious and qualified.
Find the Right Parcel
Once you are financially prepared, it's time to begin your search for the right parcel of land. You should first consider the location you prefer. You'll have to consider your budget, the size of the parcel you want, and proximity to cities, shopping, schools, or perhaps your workplace. The average price of land in Georgia is currently about $4,500 per acre. Irrigated land will cost you more than non-irrigated. In Georgia, you'll have to pay more for land that's close to the Atlanta metropolitan area.
You can search for land in a number of ways. You can consult with a real estate professional. You can do a search online and find a number of sites with updated listings for land. If you want to build a custom home on your land, you can also work with a builder. Covenant Homes is a custom home builder in Georgia that can help you find land or build your home on land you've already purchased.
Research Zoning Laws
As you shop for land, be aware of local zoning laws. You need to consider your needs and make sure the land you buy is appropriate for your plans. For example, there may be restrictions on the type of materials used to build your home. Some areas are not zoned for wooden or stone structures, for example. Zoning may also restrict the permitted size of a home, whether you're allowed to own livestock, and what type of businesses you can run from your home.
Other Factors to Research
Aside from zoning, there are a number of other factors to research before buying land. 
Soil quality. A soil test is essential if you intend to grow anything on the property.

Property taxes.

Water and utilities.

Sewer or septic system.
Make an Offer
When you find a parcel of land that meets all your criteria, you can make a formal offer on it. To do this, you'll need to fill out a Bid Offer form, which you can get from a real estate agent or download online. You have to make your offer consistent with the amount for which you've been pre-approved. Most sellers expect to negotiate, so make your offer a little lower than the price you're willing to pay. If others are also interested in the land, you may need to increase your bid.
Sign the Contract
If a seller accepts your offer, you'll need to sign the contract. Once you sign the contract, you are committed to honoring the agreement. It is advisable to have a real estate attorney look over the contract before you sign it.
Covenant Homes Will Help You Find the Ideal Land and Home
If you're looking to buy land in Georgia, Covenant Homes can help you at every stage of the process. We are a family-owned business that builds custom homes in many parts of Northern Georgia, including Habersham, White, Banks, and Stephens counties. You can choose from our many home plans or you can start from scratch with a unique design. To learn more, contact Covenant Homes.
Related articles you may be interested in: