A cluttered desk makes it hard to concentrate, whether you're running a home business, writing your memoirs, or doing your homework for school or college.
As fall starts, students return to school, and businesses get ready for the new season, it's the perfect time to organize your desk. Let's look at ten of the best desk and office organization tips.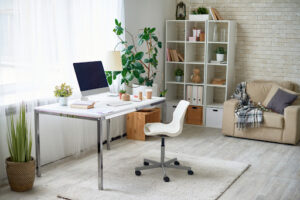 10 Tips for Desk Organization During Back to School Season
1. Keep Open Space on Your Desk
One of the first principles of desk organization is to make sure there's plenty of free space on your desk. Your computer (or whatever you use to work) and maybe a file or desk organizer should be all that's in front of you. As you finish with items such as books or documents, file them away or discard them as appropriate to make your office space feel clean and tidy.
2. Manage Cables and Charging Stations
In the digital age, clutter often takes the form of tangled cables and charging stations. One creative solution is to have an in-desk power station. Another option is a wireless charging pad, which lets you charge devices without cables. Wall-mounted chargers also help you reduce clutter.
3. Keep Seldom-Used Devices Out of Sight
Many home offices have a prominently displayed printer even though most people today only print occasionally. If you have seldom-used devices or other items that take up significant space, put them away when they aren't in use.
4. Use a Desk Organizer
Desk organizers come in many varieties. Depending on what you need to store, you can find units that can hold papers, implements such as staplers, pens, and notebooks. Designing your own desk organizer can be a fun project that lets you create a customized solution.
5. Hang a Pegboard
A wall display to hang papers, wire baskets, and other items can reduce desk clutter and give you a clear view of everything you need. If you just want to have important papers within view, a corkboard is a cheaper alternative.
6. Make Use of Natural and Overhead Lighting
Desk lamps and even standing lamps take up valuable space in a home office. If you substitute these with natural light when possible and overhead lighting, you save space. An adjustable pendant light provides flexible lighting that's out of your way.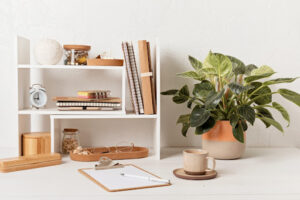 7. Install a Dropdown Desk
A dropdown desk, also known as a Murphy desk, can be folded away when not in use. Even when you're using it, you'll have floor space underneath. You can buy one or make your own.
8. Use Creative Shelving
A lack of shelf space is a major cause of clutter. If you need additional shelves, consider using bookcases. Compared to hanging shelves, a bookcase provides more space and versatility to store a variety of items.
9. Use Color Coding
Color coding files is a simple and time-tested technique that makes it easy to quickly find what you're looking for. Create whatever categories are relevant to your needs, such as prospects, reports, accounting, and so on. Students and teachers can use a different color for each subject.
10. Store Information on the Cloud
If your desk, monitor, and refrigerator are covered in sticky notes, consider using efficient cloud-based software. Google provides several free apps that are useful, such as Google Calendar and Google Docs. Productivity apps such as Todoist, Evernote and many others, which have free as well as paid plans, are useful for tracking projects, dates, and deadlines.
Get a Custom Home and Ideal Home Office
Staying organized and reducing clutter is directly related to the layout of your entire home. When you have a custom home built, you can design a home office that's ideal for your needs. Covenant Homes is a leading home builder serving the Tampa Bay and North Georgia areas. With our flexible designs and floor plans, you'll be able to create your dream office inside your dream home. For more information, contact Covenant Homes.