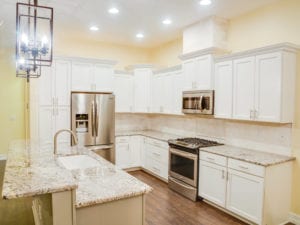 If you want to give your home an update that everyone will immediately notice, a kitchen renovation is a good place to start. We've previously discussed Designing Your Dream Kitchen, with a focus on the main points to consider during the design process. Your family and guests spend lots of time in this room between cooking, grabbing snacks and socializing. Here are home kitchen renovation tips to help you upgrade this crucial area.
Home Kitchen Renovation Tips to Guide Your Upgrade
Update Your Cabinets
One of the first items that people notice when entering your kitchen is the cabinets. Here are some possibilities to consider for your kitchen cabinets.
Paint Your Cabinets. If you like the basic design of your cabinets you can transform their appearance simply by painting them. Depending on your color preferences you might choose white, off-white or mahogany. You might also prefer a lighter color such as yellow, blue or green.
Glass Cabinets. A cabinet with glass doors creates an elegant effect and gives the kitchen an open look.
Open Shelving. Shelves can be a convenient alternative to cabinets. This makes it easy to see and reach for items rather than having them hidden away. This has been a new design trend we've seen in 2018 and expect to continue to see more of it in 2019.
Hardware. When updating cabinets, hardware makes a big difference. In fact, simply replacing the hardware such as knobs, handles and pulls can give old cabinets a fresh new look.
Lighting Options
When planning your kitchen renovation, remember that the lighting has a great impact on a room's atmosphere. Here are some lighting options to consider.
Recessed Lighting. Recessed lighting is a good choice to give your kitchen a nice modern look.
Pendant Lights. Pendant lights, that hang from the ceiling, are a fun and contemporary design for a kitchen. You can choose from a wide variety of styles for pendants.
Track Lighting. Track lights give you flexibility so you can light different areas as you move around the kitchen.
Chandelier. A chandelier has a classic look that provides a strong focal point in any room, the kitchen included.
Island Lights. If you have a kitchen island, it's nice to have lighting directly overhead to showcase this area.
Under Cabinet Lighting. Lighting can help showcase your cabinets and make it easier to find items.
Fluorescent Lights. Fluorescent lights have several advantages. They last longer and cost less than most other types of bulbs.
Tiles and Backsplash
New tiles are always a possibility worth considering for a home kitchen renovation. You have many choices when it comes to styles of tiles. Spanish and Moroccan tiles are growing in popularity in 2019.
Another choice worth considering is subway tiles, which got their name from the type of ceramic tile used in the New York City subway system. Other choices include travertine, porcelain and marble. It all depends on the look you prefer and what best complements your home décor style.
When it comes to tiles, you should also consider installing a backsplash if you don't already have one. This is a functional as well as a decorative feature as it protects your wall from stains. The typical height of a backsplash is up to 18 inches, but you can adjust it to your preferences.
Countertops
Countertops are another kitchen update that helps to define the room's style and also play an important practical role. The current trend is in the direction of sturdy and enduring countertops made of materials such as quartz or granite. However, wood and concrete are also growing in popularity right now.
Before you start your kitchen update or home improvement project, research the kind of maintenance your new countertops will require. Some materials, such as granite, are very attractive but require resealing after a certain amount of wear. Some of the materials that require the least maintenance include laminate, soapstone and quartz.
Seating
Make sure your home kitchen renovation plans leave you sufficient room for seating. If you use your kitchen for dining, you'll need to have space for a table. Even if your main dining area is in a dining room it's nice to have a breakfast nook area in the kitchen. High top bar seating and arranging chairs around a kitchen island are good options as well.
Beverage and Wine Storage
If you have or want to start a wine collection, create space to hold your bottles. The same is true, of course, if you collect other types of beverages. One possibility is to build wine racks into your cabinets. If you like to keep wine or other chilled beverages ready to serve, leave space for a beverage cooler.
It's always exciting to plan a kitchen renovation. Be sure to think of all the ways you use your kitchen, so it reflects your needs and lifestyle. Don't stop at the kitchen renovation, you may want to consider a bathroom redesign and update.
Of course, the best way to have the ideal kitchen is to move into a brand-new home that you designed yourself. Covenant Homes is a home builder that lets you customize every aspect of your home.
If you're looking to build a custom home, see why more people choose Covenant Homes to build their dream home. Contact us for more information about the home build process and how you can get started.