Design Your Home for All Seasons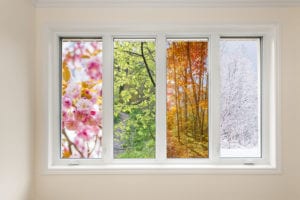 One mistake that people sometimes make when designing a home is to forget that they're going to be living there all year. If you're designing your home in the summer, for example, you tend to plan for warm weather and may not adequately prepare for the winter. While you know this logically, you may subconsciously do your planning based on present conditions.
It's important to plan your home so that you're comfortable for all four seasons. Naturally, specific conditions vary depending on where you live. However, most places have significant weather changes during the course of the year. Here are some points to keep in mind for each season.
Spring: Unpredictable Temperatures and Rain
Many parts of the country get quite a bit of rain during spring. Temperatures can also vary between chilly and warm. Make sure your home is prepared for the amount of rainfall your area is likely to receive. A sloping roof helps protect your home from the rain. Placing eaves over your windows is another measure worth considering. In addition to keeping water away from your house, eaves can also be decorative. You also want to make sure you have adequate drainage around your property.
Summer: Be Ready for the Sun
It's nice to let sunlight into your home for natural light. However, in the summer you also want to shield yourself against the heat. When designing your home, consider the orientation and how much sun you'll be getting throughout the year. Good insulation protects against the heat as well as the cold. Window coverings such as curtains, shades, and drapes also guard against the heat. Installing a good central heating and cooling system is a solid strategy for both summer and winter.
Autumn: The Season of Transition
Autumn temperatures are often comfortable. However, like spring, temperatures can vary quite a bit. You have to be prepared for Indian summers that are unseasonably warm as well as winter making an early arrival. Some regions may get stormy weather in autumn, with colder temperatures making the rain more unpleasant. In general, all of the design elements you plan for the other seasons are helpful for fall.
Winter: Cold, Snow and Ice
Even if you don't live in a region that gets severe winters, you'll want to be prepared for plummeting temperatures and possibly some ice and snow. Good insulation is essential to keep you warm. The wind can also be a factor in winter. Just as you should consider the sun when orienting your home, also research the directions of winds. For example, you probably don't want chilly winds blowing directly into your home when you open the front door.
Be Prepared for Every Season
Taking into account the particulars of your area, make sure that your home is designed for every season. If you're moving from another state or region, do thorough research on typical conditions throughout the year. It's also good to be prepared for extremes such as unusually hot summers or cold winters. The better you plan, the less extra work you'll have to do in the future.
No matter the season Covenant Homes can guide you through designing the best home for you. Contact us today!