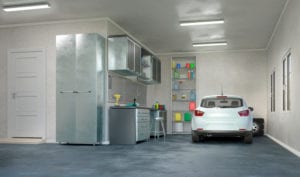 We have discussed the advantages of having an organized garage in the past. When you have a clean and organized garage, you may find that you now have extra space. There are many creative ways to utilize such space. Why not consider turning it into a multipurpose room or even an additional living space? Let's look at a few of the possibilities for transforming your garage into a fun, convenient or useful space.
Home Office
A home office is a great addition to your home whether you have a business or simply need a quiet and comfortable place to work on your own projects. If you have a business, a home office provides you with a place to meet with clients. It takes some planning to transform a garage into an office. You'll need a desk and adequate lighting. You'll probably want to redesign the floors and walls and repaint Bring in any equipment you might need such as a computer and printer. You also have to keep the space comfortable in every season. If your home has centralized heating/cooling, consult with a professional and find out how you can set it up so your converted garage is connected to your system.
A New Living Space
Turning your garage into a living space is convenient and potentially profitable. You could rent it out as an apartment or as an Airbnb. If you want to build separate living quarters, it will need an entrance, kitchen and bathroom. Before you get started, be sure to check with local building code regulations. The cost of converting a garage into a living area is significant, especially when you include fees and permits. However, it can also add substantial value to your home. If you rent out the space, you can begin to quickly begin covering your costs as soon as you start collecting rent or Airbnb payments.
An Entertainment Area or Man Cave
A garage can be turned into a fun and relaxing area for the whole family or for one person. It might be a getaway for a man and perhaps a buddy or two to watch sports or movies and enjoy snacks and beverages. It could also be a family entertainment center. Either way, you'll want comfortable furniture, a large screen TV and any other frills that will make the room complete. Other features to make the room more fun could include a wet bar, pool table, dartboard or children's area. Depending on your needs, you can turn your garage into a man cave, TV room or a place to entertain guests.
Home Gym
Another idea for a garage is to turn it into an exercise room. Larger exercise machines such as stationary bikes, elliptical machines, rowing machines and strength building machines that wouldn't fit well in the house could find a home in your garage. A free weight area could be fit into one corner of the garage if you want to use the rest of the space for other purposes.
See The Potential In Your Garage
The above are a few possibilities for transforming your garage into a multipurpose area, living space or another type of room. Once you start organizing your garage, you'll see that you have all kinds of options. Extra space in your garage can make your entire home more comfortable and even valuable.
Want to learn more about designing your dream home? Contact Covenant Homes.