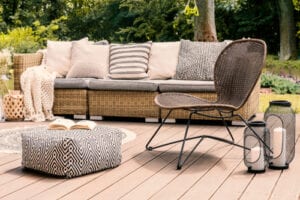 Outdoor patios can be so much more than just an extra space that you inhabit on rare occasions. They can serve as a cozy extension to your home where you can relax, eat, work, study or socialize. You may enjoy reading a book on your patio while sipping a cup of coffee or getting some work done on your laptop or tablet. Many homeowners, however, limit patio season to the summer months. With some creative tweaks, you can enjoy the perks of outdoor living on your patio throughout the year with a great backyard.
Heat It Up
The main reason you don't use your patio in the fall and winter is that it's too cold. You aren't very comfortable lounging on your outdoor furniture when the temperature plummets. The solution is to add a heat source, which is easier than you may think. There are several options including a large propane heater, an outdoor fireplace or a hanging heater powered by gas or electricity. Depending on the size of your patio area, find the right solution for you and make your patio warm and cozy.
Cover Your Patio
Aside from plunging temperatures, rain and snow are the biggest obstacles to enjoying your patio when the weather is less than ideal. Your outdoor meal, snack or party can be spoiled by a storm even in the middle of summer. Covering your patio with a canopy or awning is a simple way to provide yourself with shelter.
Brighten It Up
One reason outdoor living feels so natural in the summer is that the days are so long. When it starts to get dark at 6 or even 5 PM, hanging around on the patio doesn't feel as inviting. By setting up some creative outdoor lighting, you immediately make the space more appealing on those dark winter nights. You can choose from many styles or combine them. String lights create a nice atmosphere. A spotlight or floodlight is effective for creating a stronger light, something you may want for larger patios.
Decorate and Maintain Your Patio for Year-Round Comfort
If you're like many people, the style and decor of your patio are designed with summer in mind. It doesn't have to be that way. Once you expand your horizons and start thinking of patio season as year-round, you can modify the decor. For example:
Decorate your patio with evergreen plants. There are many hardy plants that can withstand winter. Your options include winter-flowering pansies or heathers, chrysanthemums, violas and many others.
Fight back against the weather. There's no denying that it takes some effort to enjoy outdoor living in the colder months. In order to keep the space comfortable and appealing you need to do your part. Clean up fallen leaves and branches. If it snows in your region, shovel it away promptly.
Choose sturdy outdoor furniture that can survive the elements. Metal and treated woods such as pine and synthetic wicker are all very resilient. For extreme weather such as snowstorms, you can use covers for protection.
Install an outdoor kitchen. An outdoor kitchen provides you with perfect entertaining space that makes your outdoors parties more fun and efficient.
Patio Season Can Last as Long as You Like
Don't feel that you're confined to the interior of your home as summer fades away, the days get shorter and the temperatures cooler. If you apply some of the tips shared above, you can extend the pleasures of outdoor living as long as you want.
Are you seeking a home in an area that's ideal for spending time on your patio year-round? Covenant Homes, a family-owned builder, will design your custom dream home in mild climates such as Tampa Bay and North Georgia.
To learn more about our homes and personal services, contact Covenant Homes today.