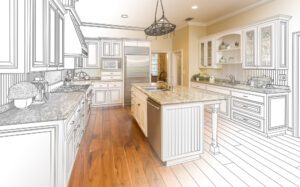 When you're shopping for a home, one of the first choices you have to make is whether to have a brand new custom home built or to buy a resale home. Some home buyers don't consider the possibility of a custom home. They may just look at an existing home that they see advertised or that a real estate agent shows them.
Advantages to Having a Custom Home Built
There are, however, quite a few advantages to having your own custom home built.
1. Save on Energy Costs
Energy costs are unpredictable but have gone up quite a bit in many areas. New homes are built using the latest, most efficient technology and insulation, which means lower bills for heating, cooling, and cooking. Older homes often have outdated appliances that are less efficient.
2. Choose a Style and Look That Fits Your Preferences
When you buy a resale home, it's not likely that everything will be exactly the way you want it. The style, size, layout, storage space, and other factors were designed by a previous owner. When you have a home built from scratch, you have every made to your specifications. You can choose a floor plan and layout that's just right for your needs. For example, you can design the ideal kitchen and bathroom and add rooms that fit your lifestyle such as an office, playroom, or gym. 
3. Convenience
With a new custom home, you can be sure that your home will be completely ready on the day you move in. With an older house, especially when the prior owner or tenants have been living there, you can never be sure what to expect. You may need to replace or repair items. It's always a nice feeling to move into a new home that's never been lived in by anyone else.
4. Avoid Common Issues of Older Homes
When you buy a resale home, there may be problems or issues you didn't anticipate. While it's typical to get a home inspection that uncovers major problems, many issues can still slip under the radar. Additionally, repairs and upgrades may be needed sooner than you expect. This could be a new roof, heating system, or water heater. With your home is custom built, everything will be brand new. You'll have a warranty that covers everything. 
5. Enjoy the Latest Technology
Many people want to take advantage of the latest innovations such as smart appliances, high-end audio systems or home theaters, automation, and other perks. With an older home, you can always install new gadgets. With a new home, however, you can have the latest technology built right in. For example, you can start off with a smart heating and cooling system. 
6. Choose the Ideal Location
The neighborhood and location of your home are other factors where it's good to have as many choices as possible. Custom homes are generally constructed in new and popular neighborhoods that are convenient to shopping, schools, and other amenities. You also get to choose the lot where your home will be built.
7. Simplify the Buying Process
Buying a home can be a complicated process, with lots of paperwork and legal issues to consider. Custom home builders simplify the entire transaction, guiding you with issues such as financing, the contract, and the closing. 
For customized homes made to your specifications in Tampa Bay or North Georgia areas, contact Covenant Homes to get a quote today. Check out our gallery of completed homes to see what options you have.