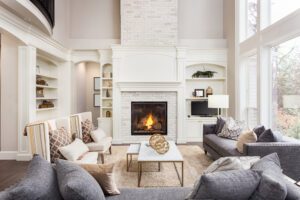 Furniture trends are always changing. Sometimes trends circle back to earlier design preferences and sometimes they move into new territory. Design trends may also borrow from other cultures, as we see with the popularity of Scandinavian design. Let's look at some of the top design trends that many homeowners are embracing in 2022. 
1. Vintage and Antique Styles
Older styles never really go out of fashion. People are now more likely to borrow from many vintage styles, such as farmhouse, Victorian, and colonial. Many of these pieces have a timeless and sturdy look that contributes to a homey and comfortable atmosphere.
2. Items With Personal and Nostalgic Value
Many people are embracing the value of surrounding themselves with furniture and decor that has personal meaning to them. This could be items inherited from ancestors or reproductions of pieces they remember from relatives' homes. These can go well with keepsakes such as photos, artwork, and other decorative items. 
3. Rounded and Curved Styles
Curves give furniture a soft and comfortable look. Chairs, sofas, sideboards, and other pieces with curvaceous lines are not a new trend. Curves were quite popular in the 1960s and 70s, for instance. However, today's styles combine curvaceous lines with more contemporary touches such as a more minimalistic look. Curves can be incorporated into almost any style to give it a gentler and more inviting look.
4. Textured Furniture
Textured surfaces, as opposed to flat surfaces, or unadorned surfaces, are another trend that people are embracing in all aspects of interior design. For example, tables and other pieces made of salvaged wood or that have a rough, natural texture, are often preferred over smoother surfaces. Textures provide a tactile as well as visual appeal, making items inviting to the touch.
5. More Elaborate Home Offices
In 2020, many people were forced to work from home due to the Covid-19 pandemic. However, remote work and home businesses remain a huge trend that is continuing to grow. People want to work in conditions that are supportive and inspiring, which means more stylish and comfortable home office decor and furniture. This includes ergonomic chairs, ample storage space, desks that are a perfect fit for the room, lamps and other lighting fixtures that provide ideal lighting, and perhaps even a sofa or napping couch. Some people also spend time decluttering their space to make it more functional for this space. 
6. Matte Finishes
Matte is a style of paint finish, along with other options such as satin and gloss. You can have a matte finish on your walls, hardwood floors, and furniture. The distinctive feature of matte finishes is that they absorb rather than reflect light. Matte metal finishes such as stainless steel, pewter, and nickel are attractive options for furniture as well as fixtures.
7. Sustainably Made Furniture
People today are looking beyond appearance and even comfort when they buy furniture. Many are looking at the manufacturing process to ensure environmentally-friendly sustainable materials were used. For example, bamboo is currently very popular. In addition to being good for making quality and attractive pieces, bamboo is a very sustainable crop.
8. Higher Quality Investment Pieces
Investing in higher-quality pieces that can be passed down to future generations is another noteworthy trend. While people are budget conscious in many areas today, they also realize that there's wisdom in buying items that will last for decades, if not centuries, rather than buying cheap items that will need to be replaced in a couple of years. High quality, of course, can be of any period or style. 
Design Your Home as You Prefer
Keeping up with the latest design trends can provide guidance and inspiration. However, you ultimately should furnish and decorate your home the way you prefer. Your own tastes and comfort should come first. 
Choose Covenant Homes as Your Custom Home Builder
If you're planning to build and furnish your dream home, the best solution is to find a custom home builder who will work with you every step of the way. Covenant Homes can help you design your dream home in Florida or Georgia. To find out why so many customers work with us, contact Covenant Homes online today.
Related articles you may be interested in: