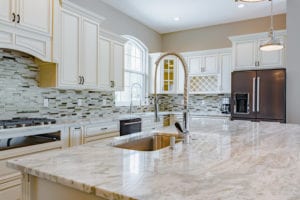 The kitchen is one of the most important rooms in any home. As the location where you often cook, gather, store food and appliances, the kitchen serves many essential functions. If you're planning to design your dream kitchen, you need to carefully consider your needs, budget and style preferences.
Top 4 Kitchen Design Guidelines
The following are some of the most important kitchen design guidelines you need to keep in mind.
1. Consider How You Use Your Kitchen
When people think of a kitchen, they naturally think of cooking and dining. However, it's important to consider your particular needs and habits. For example, do you want a kitchen where you sit down and eat, or do you have a separate dining room? Does your kitchen tend to be a place in the house where people congregate for snacks, coffee and other activities? These are some of the questions that will determine the size, style and features of your kitchen.
2. Create Sufficient Storage
When designing a home kitchen, you need to consider how much space you require for storing food, cookware and appliances. Insufficient storage ends up creating a cluttered look, which detracts from your kitchen's appearance. Consider the size of your family, how much entertaining you do and what type of cooking you do. Are you someone who has an appliance for every possible task such as a bread maker, ice cream machine and a rice maker or are you more of a minimalist?
Storage isn't only about square footage as you can be creative about smart storage options. For example, hanging pots and pans saves cabinet space. Pull-out pantries provide storage space that's out of the way. Built-in appliances such as ovens can also create more space. Cabinets play a crucial role in your kitchen storage. You can get Colonial, Shaker, Unfinished or a more modern style of cabinet. Glass front cabinets tend to make the room brighter and make it easier to see what you're storing. When planning the design of your cabinets and the kitchen as a whole, you also want it to complement the rest of your home.
3. Choose the Right Appliances
Major appliances such as your stove, oven and refrigerator play an important role in your kitchen design. Make sure you choose items that are the right size and style for your needs. The refrigerator takes up a large chunk of space in your kitchen, so you want it to be appealing as well as large enough. What kind of cooking do you prefer to do? This will determine the kind of oven or ovens you need. Modern appliances are created with design as well as function in mind so you can choose ones that enhance your kitchen design.
4. Lighting is an Essential Part of Kitchen Design
Light is another feature that profoundly affects your kitchen's atmosphere. Start by making the best use of natural light. If you're fortunate, you'll get sunlight from windows or perhaps a sliding glass door. You can make the most of this natural light by using the right window treatments and curtains. Use layered lighting to provide sufficient light for every part of the room. Overhead lighting in the form of recessed lights, chandeliers or track lights are good for brightening the entire room. Beyond this, you can have accent lighting to feature certain spots and task lighting to illuminate certain work areas such as the stove, sink or under cabinets.
When you design your dream kitchen, you need to consider every element that affects the look and functionality. While in many parts of the home, the design is often distinct from function, in kitchen design the two are closely connected. You want your home kitchen to be comfortable and efficient as well as attractive.
If you're looking to build a new home, consider using Covenant Homes. Learn what sets us apart.