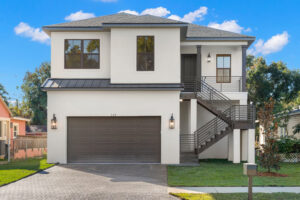 Even if you don't live within sight of the ocean or the Gulf, you can enjoy the ambiance of coastal living when you decorate your home with coastal decor. Coastal homes have been quite popular lately and there are many ways you can incorporate this style into your current or future home. You may even want to consider a coastal-style custom-built home.
What Is Coastal Design?
Coastal decor incorporates elements from the beach and tropical islands into your summer or vacation home, or could be added to any home as the preferred style. There are many ways to include the style, colors, and design of the ocean in a home. You can either use this concept to design your entire home or simply include it where you prefer. Let's look at some of the best ways to give your home a beachy, coastal feeling.
1. Bright Colors
To create a coastal vibe, you naturally want to include colors such as blue and sea green. However, other bright colors such as yellows, pinks, and reds also work. Anything that reminds you of a dramatic sunrise or sunset and lush tropical flora will enhance the mood. Think of bright colors when choosing interior and exterior paint as well as furniture and decor.
2. Natural Fibers
Woven materials evoke the relaxed mood of the beach and tropics. Fiber rugs, wall hangings made from hemp, silk, or flax, and cotton bedspreads are all ways to incorporate the lush textures of natural fibers into your home.
3. Let in Plenty of Natural Light
Sunlight is an essential element of any coastal environment. Make sure your curtains, blinds, or other window coverings don't block out natural light. Sheer curtains are useful for letting in the light while still providing you with privacy.
4. Bring Your Home to Life With Greenery
To give your home the atmosphere of the beach, it helps to include plants and flowers such as palms, cacti, ficus, and philodendrons, both indoors and outdoors, are all great choices.
5. Give Your Walls a Coastal Touch
Decorate your walls with artwork and wall hangings that suggest the beach. Paintings, prints, and photos such as seascapes and sunsets always work. Grasscloth wallpaper is another simple way to bring an ocean ambiance into any room.
6. Open Shelving
An open design, especially in the kitchen and dining room, give your home a friendly and spacious feeling. This helps to create a casual atmosphere and makes it easy for family as well as guests to easily access everything.
7. Install Bunk Beds in the Guest Room
Make your coastal-inspired home more welcoming by providing lots of extra sleeping space. Bunk beds let you do this in an efficient and attractive manner. Evoking the atmosphere of a ship, bunk beds let you save space and fit in multiple guests.
8. Make Use of Multipurpose Furniture
Beach houses have a casual atmosphere that allows for spontaneous gatherings. Having furniture that can serve multiple purposes gives you maximum flexibility. For example, a coffee table that can turn into a dining room table can be used for many different occasions.
9. Flooring Options
Casual, low-maintenance flooring is best for coastal design. Blue or green tiles, either ceramic or porcelain, are easy to clean and contribute to the beach atmosphere.
10. Create Beach-Inspired Outdoor Spaces
People spend lots of time outdoors on patios or porches in coastal areas, something to remember when designing your home. Transform your deck into a comfortable living space, using elements such as a comfortable sofa, artwork, and rugs. For a covered porch, a ceiling fan adds a nice touch while keeping you cool on warm days.
Let Covenant Homes Build Your Dream Coastal Home
Covenant Homes builds custom homes in any style you prefer. We have several popular coastal home models you can choose from or use as inspiration when designing your new home. We can also design your ideal custom built home from scratch. 
Contact us online for a free consultation  to see how Covenant Homes can help you design your dream home. 
Check Out This Coastal Home by Covenant Homes